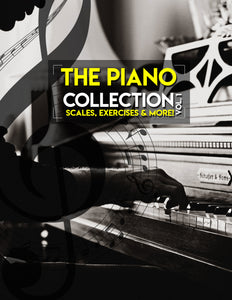 Instant Access Download
This is a digital download and......it's awesome!
Feel like a beginner that isn't moving forward?
Striving to perform but lacking the technical ability?
Or perhaps you desire more fluency around the keyboard?
If you play piano and you're looking for that advance and edge to your technique then The Piano Collection eBook is for you.
Volume 1 is perfect for your average grade 1-3 player that's looking to move to new levels.
Gain access to:
Major & minor scales, arpeggios & chromatics for grades 1-3
Contrary motion
Broken chords
Arpeggios
Finger workouts
Extended finger workouts
And So Much More!
You also get grand clef images, colour coded, appropriate fingerings and supporting text. 
It's time to take you're playing to the next level with The Piano Collection Volume 1. Watch as you're friends and family notice the difference in your playing and ask what you've been doing to make such improvements in your playing.
Get your copy now at this awesome price. You'll be directed to the download page right away and emailed access too in case you want to come back any time!
Please note this is not a book that will be delivered in the post. As stated above this is an eBook and an instant download.