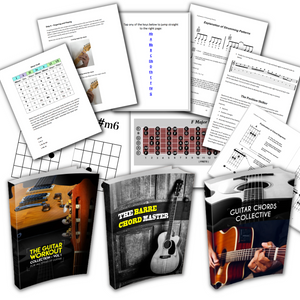 Instant Access Download 
This is a digital download and we have gone way overboard with content!
The Guitar Breakthrough Blueprint is packed with a combination of 3 original courses to create a superior blueprint for guitar players.
With 300+ pages of content including diagrams, tabs, pictures, charts & so much more you can learn more from your 1-time purchase than you can in months and months of expensive lessons!
Over 120 chord charts - sorted into keys
Major's, minors, 7ths, diminished and more
Easy-to-read charts!
Scales (majors. minors, pentatonics & modes)
Tips, theory and chord progressions
Technique, exercises, workouts

Photos of perfect hand positions
How to master any barre chord 
Conquer the dreaded F chord and beyond
Learn the secrets of speed and fluency
Gain unprecedented flexibility
Build strength and stamina in both hands
Transform your playing!
We've removed the fluff and the filler, so no page is wasted with pointless graphics. Zero paper waste! You can even download this onto any device including your mobile and have access to every chord you'll ever need in seconds!
More of what's inside the Guitar Breakthrough Blueprint:
There's no song you cannot play once you have access to Guitar Chords Collective! Every chord, every key you'll need. Amaze your friends and family! 
Crack the code to any barre chord with The Barre Chord Master - discover how to quickly develop the right technique and discover the theory secrets to finding and playing the most complicated chords that have eluded you to till now!
The Guitar Workout Collection Vol 1 gives you pages pf techniques and exercises that you won't find anywhere else. R Rowley has developed the perfect blueprint to speed, control, tone, flexibility, stretch, dexterity and co-ordination. The missing piece your technique has always needed!
Gain access to the Guitar Breakthrough Blueprint now at this awesome price. You'll be directed to the download page right away and emailed access too in case you want to come back any time!