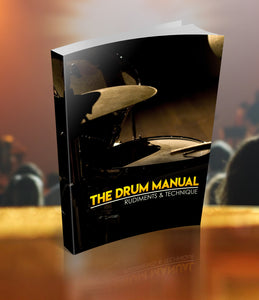 Instant Access Download
This is a digital download and we think it's awesome!
The Drum Manual is packed with the essential 40 rudiments that every drummer must know, learn and master BUT....

We've also included 40 studies that can be practised along side each of the 40 rudiments.
Easy-to-read layout
40 rudiments + 40 studies
Progressively ordered so you're always challenged
Tips included to help you achieve the most you can.
Take this wherever you need it
Transform your playing and knowledge!
We've removed the fluff and the filler, so no page is wasted with pointless graphics. Zero paper waste!
You can even download this onto any device including your mobile and have access to everything you need in seconds!
Watch your playing and technique explode once you have access to The Drum Manual! Amaze your friends and family!
Get your copy now at this awesome price. You'll be directed to the download page right away and emailed access too in case you want to come back any time!
Please note this is not a book that will be delivered in the post. As stated above this is an eBook and an instant download.