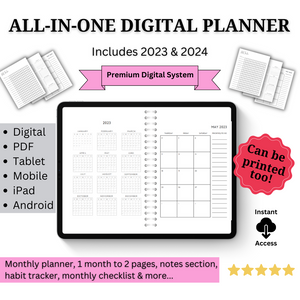 Special Launch Price!
The all-in-one Dolce Digital Planner has been designed and crafted us here at SimplyDolce to help you find real balance in your life.
Made to maximize your productivity, help you set & achieve goals and of course keep everything organized so you can live and enjoy life.
The planner can be used on any device you wish - mobiles, tablets, desktops or laptops....and of course it works with any operating system. 
You can edit the document with a pen/stylus or with good old fashioned typing.
This planner can be printed too - so if you want a hard copy for pen-to-paper, then we have you covered!
What You Get
Full year calendar
Monthly planner
1 month over 2 pages - giving plenty of space
Yearly/quarterly goals tracker
Substantial notes section
31 day habit tracker
Monthly checklist
Monthly priority/to-do area
Free updates!
How It Works
Step 1: After purchase, you will receive your planner on the thank-you page and you will also be emailed a download link. Download your purchase and open it on any device you wish. 
Step 2: On your chosen device, upload your planner to a PDF Annotation app like Goodnotes, Notability, Xodo or Samsung Notes. This will enable you to begin writing in the planner.
Step 3: Start organising, planning, scheduling, setting targets and living your best life!
Need any help? Just drop us an email and we'll be happy to help.
The Dolce Digital Planner is currently available to you at it's special launch price, so grab it now whilst it's still available!
Take advantage of this offer today and secure your 100% money back guarantee. We accept all major debit and credit cards as well as PayPal to ensure peace of mind and security.