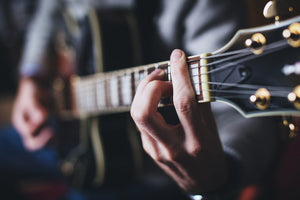 Are you looking to take your guitar skills forward? Do you need the advice of a seasoned professional? 
Then this is the choice for you!
We understand that regular lessons may not be needed or wanted by many guitarists, but you may still want someone to give you tips, techniques, guidance and a plan to move forward.
Now you can get that advice with the Guitar Skill Review.
Rich, our guitar teacher has over 20 years teaching and performance experience in all styles of guitar. A graduate of the Royal Conservatoire in the UK, he knows exactly how to push any player forward and solve any guitar challenges.
Simply send us a video of you playing and we'll ask one of our teaching team to review your skills and answer any questions you have.
You may wish to play your favourite piece or tabs.
You may need feedback on your improvising.
Perhaps you're struggling with certain chords or scales
Is your posture or hand positions causing pain?
Whatever it is, we'll watch your video and give you the help, advice and teachings that will move you forward....and move you forward fast!
Simply purchase your review, we'll send you an email, then reply with your video and any accompanying text or questions in the same email. Within a few days we'll be back with our expert advice.
Our cut-down price won't last for long, so hurry whilst the offer is still on!