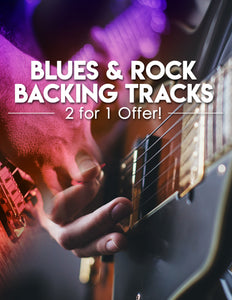 If you've ever wanted to jam with some great blues and rock tracks, then this is the download for you!

We've combined the Rock Collection with the Blues Collection to give you a whole list of original tracks that will ensure you're playing and sounding like a guitar god!

DOUBLE the tracks, DOUBLE the value & DOUBLE the fun!

This bundled super collection of MP3 backing tracks comes in a variety of keys, tempos and styles to enable you to play Rock and Blues like never before.
Multiple keys available.
Variety of tempos.
Slow & Smooth to Fast & Funky.
Download as many times as you like.
Copy and store on as many devices as you wish.
Smartphone, tablet, laptop, pc.
Burn to CD.
You'll never be far from the burning heart of pure Rock or the deep soul of Blues!
You can use these tracks to:
Practice your improvising skills
Gig, record and perform
Impress your family, friends, students or teacher
Or just to chill out and jam.
These awesome backing tracks will have friends, family or customers in awe of your guitar skill.
Download your copy now at this awesome price. You'll be directed to the download page right away and emailed access too in case you want to come back any time!