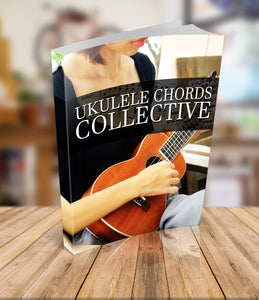 Instant Access Download
The Ukulele Chords Collective eBook is packed with every chord and chart you're going to need in all the keys you could possibly wish for!
Over 100 chord charts
Sorted into keys
Major's, minors, 7ths, diminished and more
Easy-to-read charts!
Take this wherever you need it
Transform your playing and knowledge!
We've removed the fluff and the filler, so no page is wasted with pointless graphics. Zero paper waste! You can even download this onto any device including your mobile and have access to every chord you'll ever need in seconds!
There's no song you cannot play once you have access to Ukulele Chords Collective! Amaze your friends and family!
Get your copy now at this awesome price. You'll be directed to the download page right away and emailed access too in case you want to come back any time!